Can the newly arrived wire drawing machine be put into use immediately?
Views:6 Author:Site Editor Publish Time: 2020-06-03 Origin:Site
Can the newly arrived wire drawing machine be put into use immediately?


We know that after receiving a new device, the staff must not have enough understanding of the device, and there is also a place to know and learn about the operation of the functional machine of this device. So, usually, for new arrivals The equipment can not be put into production immediately, we still need to complete some preparations, and the same is true for the wire drawing machine equipment.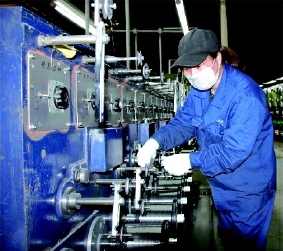 This is also a principle of use that almost all equipment should follow. Otherwise, if it is not fully understood, rush into production may cause unexpected situations. Therefore, we need to make some preparations before we can use the new wire drawing equipment for production work. So, what should be done?

As a user, after receiving the goods, it is necessary to conduct a comprehensive inspection of the equipment. The focus of the inspection is to pay attention to see whether the electrical parts are damaged during transportation. After the inspection, you should also carefully read the manual of the device and master the related operation methods. After a certain amount of understanding, you can try to open the wire drawing machine equipment for trial operation to check whether the equipment's operating status is normal.

Because different equipment has its own characteristics, and for new equipment, there may be more uncertainties in the operation process, so in order to ensure the safe production of the wire drawing machine, we need to first remove some unsafe factors as much as possible Outside, to ensure the normal progress of production work, but also to protect the personal safety of operators. So, how can we achieve safe operation? Here are some suggestions from professionals:

Normally, the new equipment will be tested before leaving the factory. During the test, there may be some residual waste inside the equipment, so we need to clean it up now. Then, it is necessary to check whether the lubricating fluid inside the wire drawing machine is sufficient to ensure good lubrication, which can prevent some failures of the equipment due to improper lubrication.