Future automatic wire drawing machine development trend and technical configuration
Views:6 Author:Site Editor Publish Time: 2020-06-02 Origin:Site
Future automatic wire drawing machine development trend and technical configuration


The automatic wire drawing machine is the core processing equipment for various wires such as steel wire, copper wire, aluminum wire and bimetal wire. Increasing the processing speed can not only improve labor productivity, but also change the metallographic structure of the metal material, and the strength and toughness of the metal wire are greatly increased To improve product quality. Due to the limitation of the control system technology, the conventional wire drawing machines mostly use pulley-type or inverted-type drawing, which will distort the metal wire, seriously affecting the quality of the product, unable to pull at high speed, and reducing the production efficiency. With the development of control technology, high-speed, straight-through, multi-pass, and one-time winding processing methods have become the technical development trend of the metal wire processing industry.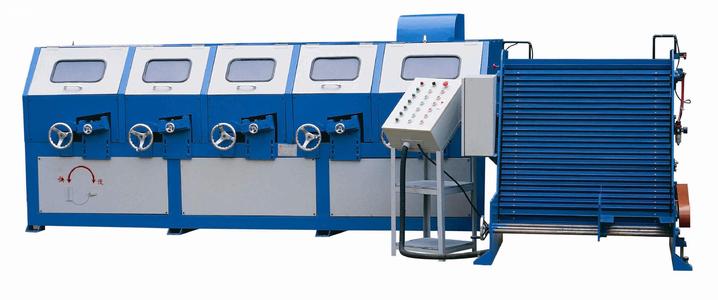 At present, foreign automatic wire drawing machine equipment occupies most of high-end products. The development of high-performance wire drawing machine with independent technology is of great significance for enhancing national industry and breaking the monopoly of foreign products. At present, the industry's leading high-speed automatic drawing machine is designed to realize the mechanical design and coordinated control of the drawing machine linkage, start, high-speed operation, rapid stop, and winding. Its main innovations are:

1. Absorb the advantages of parallel dynamic structure and series dynamic structure, transform the cross-coupling structure so that it can be used in multi-motor systems, and combine the parallel, series, and improved cross-coupling types. The new cross-coupling dynamic structure with adjustable speed and multi-position tracking solves the problem of coordinated control of multiple motors, reduces position errors, and ensures the position accuracy of each tuning roller during the operation of the automatic wire drawing machine.

2. directly use the cutting signal to transmit the transmission coefficient step by step, and realize the arbitrary cutting function of the pass on the automatic wire drawing machine, which can easily realize the multi-use of one machine and the maintenance of any pass.

3. A deficit control technology is proposed to enable the tuner to start directly at any initial position, overcoming the shortcomings of equipment intervention that requires manual intervention, and realizes a smooth start of the automatic drawing machine at the instant of startup, while preventing wire breakage at the instant of startup happened.

4. A feedforward coefficient identification technology based on iterative learning based on nonlinear approximation and optimized PI control technology are combined to reduce the control parameters of multiple controllers of the machine to two, which simplifies the debugging steps and feedforward coefficients. Recognition technology can be used to rewind parts and vice versa.

5.The automatic pay-off machine's active pay-off is equipped with a pay-off tension adjustment mechanism, which can realize the active pay-off of metal wire, and make the metal wire run smoothly, the surface is smooth and not easy to break.